[ Propanota ] is one of the "metal disc-shaped slit drums" that have started to appear around the world in the last 10 years.
The characteristic of this instrument is that the sound is very beautiful and anyone can easily play it.
I started making this instrument about 10 years ago.
It is an instrument that is often used for yoga, meditation and healing, but I do it with the premise of the ensemble with other instruments.
Since it is manufactured and sold by one person, the production volume is small.
However, the advantage is that it can be individually customized based on personal preferences.
Attention
This site was translated by Google Translate.
I can understand English a little, but I'm not a translator.
I think there are many strange expressions, but I have only one thing to tell you.
If there is an order, I will make it and I will send it to you.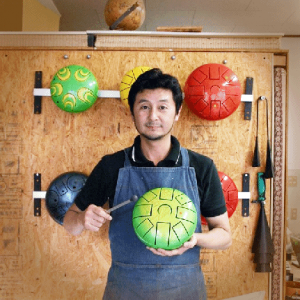 sugaiperucussion : Sugai Hajime